A pause for a spell…
Dear Readers —
I'm in the process of republishing all my books (long story), and they are in various states of availability right now. I hope to have all back for sale in e-book form in the near future.
Print books are out of distribution from main retail sites (e.g., Amazon and B&N), but please let me know if you're interested in a print copy of any.
And now about my books
Most authors when they're starting out stick with one genre, or at least genres that are close. Me? Not so much. I like writing stories about relationships and love in all its forms, and in different ways. At the same time, I know that readers sometimes do stick with one genre, and an author's genre-hopping can cause confusion.
My first two books fall into the general romantic suspense category: crime, mystery, passion — stuff like that — and tend to be gritty in tone and content, with a high level of sexuality. My "Christmas Dance," on the other hand, is crime-free (depending on one's definition of crime), has very little spilling of blood, and while I'd rate it in the "R" category, it's not pushing any envelopes in the sexuality rating.
In a complete 180-degree shift, I released a children's story in early 2013. "Lights of Imani" is illustrated, designed for ages 7 to 10.
Whichever your choice, I hope you enjoy!
Here are my books, in order of release date:
Romantic Suspense
Love and Danger collide when FBI Agents David Owens and Anna Parker go undercover in a BDSM ring.
Read more, including an excerpt, here.
Available for Kindle at on Amazon (purchase or Kindle Unlimited), here.
Paranormal  Romantic Suspense
Do you believe in ghosts? FBI Jackson Yates never did until he met… Adrienne's Ghost. Reviewer says: "Spine-tingling suspense and  gut-wrenching emotion."
Read more, including excerpts, here.
 Available in e-Book for purchase or borrowing via Kindle Unlimited at Amazon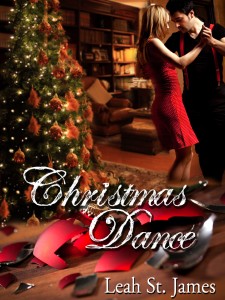 Christmas Dance
Women's Fiction
What happens when two married people take a look at the perfect lives they've created and decide it's not enough? What happens when those same two people catch the eye of a stranger, and like what they see?
Christmas Dance
A story of love, marriage and parenthood. A story of long-held secrets and temptations. A story of hope.
Click here for more.
Available at Amazon in ebook (purchase or Kindle Unlimited)
Lights of Imani
Children Aged 7-10
Fantasy, Fairy Tale
Far from America lies an island kingdom whose people have been separated after years of fighting … until one night when Princess Imani takes a chance on friendship.
Available in print from Leah. Please email leah@leahstjamescom for information.