Getting back in the game…
It's been some time since I've released new works, and a lot has changed in the industry over these several years. While writing new stories and educating myself on how best to share them with readers, I took several my existing books out of sales distribution channels.
Since then, I've written and released a short story, Azrael's Chosen. It's part of a 13-author project, whose stories all released on Friday, November 13, all dealing with a few common elements. (More about the story below.)
I'm also revising and updating Christmas Dance, a novelette (short novel) about a man and woman who are married (to other people) but tempted by the grass that appears so much greener on the other side. I've had some thoughts on the plot since first writing the story, and I have a new cover to reveal as well. Coming soon!
I have a new cover as well for Surrender to Sanctuary coming soon!
Aside from that, I'm working on a new contemporary faith-themed series that will touch on romance, parenting, and the pitfalls of trying to be "good" in today's world. (That's the theory anyway. I'm about two-thirds done with the first book. We shall see!)
Available now!
Azrael's Chosen, a Friday the 13th Story
13 authors ~ 13 stories. Get your fright on.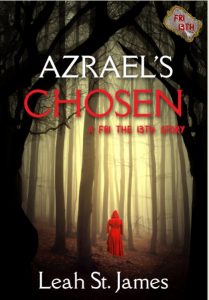 Deep in the Pine Barrens of New Jersey, a group of teens play a game of life and death. Years later, a killer emerges, vowing to fulfill their teenage oath. New Jersey State Police Detective Shannon Morgan tracks the killer, and finds herself next to be chosen.
Police procedural/crime/mystery
PG-13, some violence, no sexuality.
Available at Amazon.com for Kindle ($1.99), free for Kindle Unlimited members.
About my books
Most authors when they're starting out stick with one genre, or at least genres that are close. Me? Not so much. I like writing stories about relationships and love in all its forms, and in different ways. At the same time, I know that readers sometimes do stick with one genre, and an author's genre-hopping can cause confusion.
My first two books fall into the general romantic suspense category: crime, mystery, passion — stuff like that — and tend to be gritty in tone and content, with a high level of sexuality. My "Christmas Dance," on the other hand, is crime-free (depending on one's definition of crime), has very little spilling of blood, and while I'd rate it in the "R" category, it's not pushing any envelopes in the sexuality rating.
In a complete 180-degree shift, I released a children's story in early 2013. "Lights of Imani" is illustrated, designed for ages 7 to 10.
Whichever your choice, I hope you enjoy!
Here are my books, in order of release date:
Romantic Suspense
Older teens and adults for graphic sexuality and some violence
Love and Danger collide when FBI Agents David Owens and Anna Parker go undercover in a BDSM ring.
Read more, including an excerpt, here.
---
Paranormal Romantic Suspense Novella
Older teens and adults for sexuality
Available for Kindle for $2.99 here.
Do you believe in ghosts? FBI Jackson Yates never did until he met… Adrienne's Ghost. Reviewer says: "Spine-tingling suspense and gut-wrenching emotion."
Read more, including excerpts, here.
---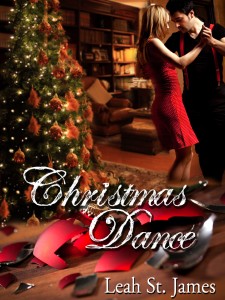 Christmas Dance
Women's Fiction
Older teens and adults for thematic elements, moderate sexuality.
What happens when two married people take a look at the perfect lives they've created and decide it's not enough? What happens when those same two people catch the eye of a stranger, and like what they see?
Christmas Dance
A story of love, marriage and parenthood. A story of long-held secrets and temptations. A story of hope. Click here for more.
---
Lights of Imani
Fantasy, Fairy Tale
Children Aged 7-10
Far from America lies an island kingdom whose people have been separated after years of fighting … until one night when Princess Imani takes a chance on friendship.
Available in print from Leah. Please email leah@leahstjamescom for information.