| Surrender to Sanctuary | Lights of Imani | Adrienne's Ghost | Christmas Dance |
| --- | --- | --- | --- |
| | | | |
I write stories of crime and passion, mystery and suspense, and most of all love.
Please check back from time to time to learn what's new in my world!
Happy February!
As I write this, I'm sitting in my jammies, a cup of warm tea at my side, fighting a wicked cold that has my head and ears clogged and my throat raw. (I blame my son. He brought it home from his job, gave it to his girlfriend and now apparently to me.)
I'm using this rare period of un-wellness to stay inside–because it's something like 17 (ghastly cold) degrees outside! And I really, really hate the cold.
I really, really hate super hot weather too, thus I make my home in southeastern Virginia, in a clime that's generally milder in the winter than my native New Jersey. Summers are no hotter than Jersey either, just longer. Plus I live on a peninsula that seems to get more than its share of nice breezes. (And let's face it…I spend most of my time inside, in climate-controlled buildings. I can't complain really.)
So wherever you are — whether in the blustery cold of the north or the relatively balmy warmth of the south — I hope you're staying safe, warm and dry. And cold free.
_________________________________
Writing News
I continue to work hard on Sanctuary's Promise, the sequel to Surrender to Sanctuary. The story almost done, with lots of new challenges for David and Anna, the crew at th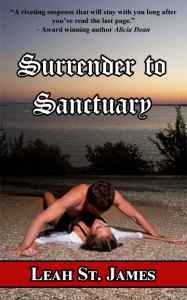 e FBI, and at Sanctuary, Virginia. Look for the story in early fall 2015.
In the meantime, here's an updated cover for Surrender to Sanctuary. I wanted something that reflected Anna and David's romance more clearly. I think it's pretty romantic. What do you think?
I've also been working on a short Halloween story for an anthology to be published in the fall. (I love writing spooky!)
I'm fortunate to count many writers as my friends, and you can catch me blogging with the Tea & Strumpet crew. Look for me talking about crazy stuff that happens in newsrooms the fourth Monday of every month. On the 22nd of each month, I blog with the Roses of Prose.