| Surrender to Sanctuary | Lights of Imani | Adrienne's Ghost | Christmas Dance |
| --- | --- | --- | --- |
| | | | |
I write stories of crime and passion, mystery and suspense, and most of all love.
Please check back from time to time to learn what's new in my world!
It's (finally) March!
I don't care that spring is still officially a couple weeks away, as soon as we flipped the calendar to March, it was time.
This has been a miserably cold and snowy winter in southeastern Virginia where I live. I know, I know….stop whining. It's nothing like what people up in the north have faced. But still, we don't do snow well around here. We don't have the equipment and inventory of salt/sand/whatever they use to treat roads to keep people from playing bumper cars.
Eight inches of snow in one 24-hour period closed area schools for a solid week and stopped trash pick-up for the same period. (My city's info line said the trucks were having a hard time getting into the neighborhoods. … Really? A mega-ton garbage truck can't soldier through eight inches of snow? My Hyundai sedan managed!)
Anyway…those days are done now, for this year, and I'm ready for spring.
Yesterday the thermometer hit into the low 60s, a perfect chance to get some sun and fresh air. I headed for the nearest walking trail with my son's girlfriend, and we had a nice chat for a mile up and back.
This photo still looks pretty wintery, but it felt like spring. And not a minute too soon.
Welcome, spring!
_________________________________
Writing News
I continue to work hard on Sanctuary's Promise, the sequel to Surrender to Sanctuary. The story almost done, with lots of new challenges for David and Anna, the crew at th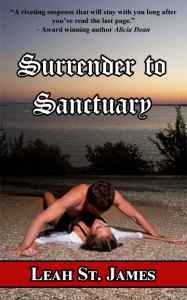 e FBI, and at Sanctuary, Virginia. Look for the story in early fall 2015.
In the meantime, here's an updated cover for Surrender to Sanctuary. I wanted something that reflected Anna and David's romance more clearly. I think it's pretty romantic. What do you think?
I've also been working on a short Halloween story for an anthology to be published in the fall. (I love writing spooky!)
I'm fortunate to count many writers as my friends, and you can catch me blogging with the Tea & Strumpet crew. Look for me talking about crazy stuff that happens in newsrooms the fourth Monday of every month. On the 22nd of each month, I blog with the Roses of Prose.