| Surrender to Sanctuary | Lights of Imani | Adrienne's Ghost | Christmas Dance |
| --- | --- | --- | --- |
| | | | |
I write stories of crime and passion, mystery and suspense, and most of all love.
Please check back from time to time to learn what's new in my world!
 My Latest Writing News
Earlier this month I had the opportunity to chat with the folks at The Author's Talk Show at WSRP Radio onlin (Blog Talk Radio).  We talked about each of my books and the stories behind them (like why I like writing about FBI guys so much), what it's like writing out of your comfort zone (which I definitely did with "Surrender to Sanctuary") and some thoughts about social media, writing groups and more.
The host, Doug Huggins, was super nice and easy to talk to. The broadcast goes live on Jan. 20 at 7 p.m. If you'd like to listen in, click here.
On Saturday, Jan. 24, I'll be at the Hampton Roads MyTime Women's Show with friends Tina Glasneck, Denise Golinowski, Elvy Howard and Mollie Cox Bryan. It's an all-day shopping spree for ladies…although some drag their men along as well. If you're in the area, stop by and say hello at the Tea & Strumpets booth!
Next month I'll be reading from one of my stories at the Peninsula Fine Arts Center in Newport News. It's a tribute to romance, so I guess I better find something romance-y to read! We start at 7 p.m. on Thursday, Feb. 12. The center is on the grounds of Mariners' Museum Park in Newport News, Va.
I'll also be trying my hand at a Facebook party that week — please stay tuned for details.
_________________________________
I continue to work hard on Sanctuary's Promise, the sequel to Surrender to Sanctuary. The story is beginning to flesh out, with lots of new challenges for David and Anna, the crew at th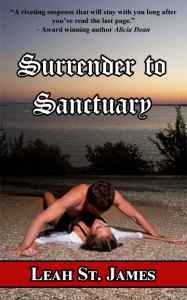 e FBI, and at Sanctuary, Virginia. Look for the story in early spring 2015.
In the meantime, here's an updated cover for Surrender to Sanctuary. I wanted something that reflected Anna and David's romance more clearly. I think it's pretty romantic. What do you think?
I'm fortunate to count many writers as my friends, and you can catch me blogging with the Tea & Strumpet crew. Look for me talking about crazy stuff that happens in newsrooms the fourth Monday of every month. On the 22nd of each month, I blog with the Roses of Prose.