I write stories of crime and passion, mystery and suspense, and most of all love.
Please check back from time to time to learn what's new in my world!
Slogging Along the Writing Trail
I am so seriously behind in my writing projects, I almost wonder if I should just stop. When I saw this quote by Scottish author Alexander Trocchi, I thought, "Yesssss, this is how I feel."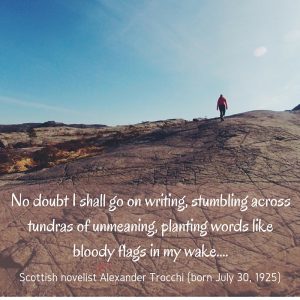 ___________________________________
More Blogging
I blog on the 22nd of each month over at Roses of Prose, a talented group of mostly romance authors.Each day's message is as different and unique as the authors.
Monthly Newsletter
Each month I share either an article about writing life, the story behind a book, or a book recommendation in the Novel Notes newsletter, shared with fellow authors Alicia Dean, Kathy L. Wheeler and Diane Burton. We have a monthly drawing for a $25 gift card. If you'd like to get it, sign up here.