| Surrender to Sanctuary | Lights of Imani | Adrienne's Ghost | Christmas Dance |
| --- | --- | --- | --- |
| | | | |
I write stories of crime and passion, mystery and suspense, and most of all love.
Please check back from time to time to learn what's new in my world!
Book Spotlight – Christmas Dance
It's officially Christmas season, a perfect time to explore the themes in my nonromance love story, Christmas Dance. Why "nonromance"? Because it's not about two people falling in love.
Christmas Dance is about what happens after the happy-ever-after ending. It's about young marriage, young parenthood and trying to keep the fires of love burning against pressures of not enough money, too much work stress, parenting conflicts…and the heartache of infertility. Sooner or later, even wondering what you ever saw in your spouse anyway.
In the end, it's a story about finding a way to rekindle the love you shared when you said your "I do's."
For the next few weeks, I'll be sharing some thoughts about the characters, their motivations and the lessons they learn.
Read about heroine Alexandra's story here.
Read hero Sam's story here.
My Latest Writing News
Giving Thanks for Writing Friends
Yesterday (November 22) I spent the day at the Hampton Roads Author Fest in Virginia Beach, Virginia, an all-day meet-and-greet with local authors. There were workshops, too, but I was having too much fun chatting with other authors to tear myself from the table. (I heard they were good, though!) I had a great time catching up with old friends and making some new ones.
When I first started writing commercial women's fiction, I knew nothing…except that I knew nothing.

I decided to join a couple writers' groups (local and online) to learn about the craft and business, but found so much more. Other writers, at least in my genre, are wonderfully generous and supportive, and the friendships I've made over the years are invaluable.
So this Thanksgiving, while I give thanks for the many blessings in my personal life (family, health, work), I have to add my many writing friends to my long list of joys.
Thank you, friends!
_________________________________
I continue to work hard on Sanctuary's Promise, the sequel to Surrender to Sanctuary. The story is beginning to flesh out, with lots of new challenges for David and Anna, the crew at th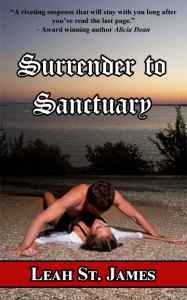 e FBI, and at Sanctuary, Virginia. Look for the story in early spring 2015.
In the meantime, here's an updated cover for Surrender to Sanctuary. I wanted something that reflected Anna and David's romance more clearly. I think it's pretty romantic. What do you think?
I'm fortunate to count many writers as my friends, and you can catch me blogging with the Tea & Strumpet crew. Look for me talking about crazy stuff that happens in newsrooms the fourth Monday of every month. On the 22nd of each month, I blog with the Roses of Prose.