| Surrender to Sanctuary | Lights of Imani | Adrienne's Ghost | Christmas Dance |
| --- | --- | --- | --- |
| | | | |
I write stories of crime and passion, mystery and suspense, and most of all love.
Please check back from time to time to learn what's new in my world!
Chilling for "The Holidays"
Every year I tend to go on a rant about "The Holidays" — the increasing commercialization of what, to me, is a sacred holiday, the crazed Black Friday shoppers who this year even resorted to tasing to get the best of fellow bargain hunters. (Really, people??)
I need to stop there. I can feel my blood pressure ramping just thinking about it! Instead, I'm trying something new this year:  chilling. Not fussing over what I can't control.
I'll focus on what I can control, and what's important in my life, like family, friends, and my wonderful readers whose encouragement means so much.
So here's what's going on in my writing world.
My publisher, Edward Allen Publishing, is discounting Christmas Dance beginning December 21 with a Kindle Countdown Deal. In the meantime, it's running a giveaway for a tote bag full of its current titles. All you have to do to enter is comment, like, share, tweet (something like that) on the page or via Facebook or Twitter
Christmas Dance, Chapter 1, will be posted in four parts:
December 4
December 9
December 12
December 17
Check back for information about the Kindle Countdown!
Short Holiday Story with Roses of Prose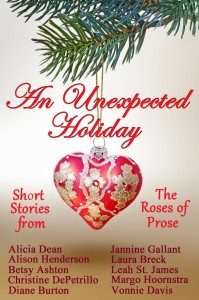 The Roses of Prose, a group of authors who write a variety of genres and styles, publish a series of short stories each year in December. This is my first year with the Roses, and I jumped on the chance to participate.
My story, Christmas Delivery, will appear December 18-20. In the meantime, I invite you to check out the other stories. They're terrific!
Dr. Angela Jensen is a surgeon, raised to believe in logic and science. She doesn't celebrate Christmas and is perfectly happy keeping her distance from the mythology of a divine birth that grips normally rational people each December. Until a terrible accident early Christmas morning brings her face to face with the miracle of new life.
Upcoming Events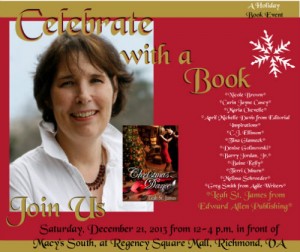 Saturday, December 21
Celebrate with a Book Author Fair
Regency Square Mall — Richmond, Virginia
Noon to 4 p.m.
Saturday, February 1, 2014
MyTime Women's Show
Hampton Roads Convention Center
Hampton, Virginia
10 a.m. to 4 p.m.
____________________________
My Latest News
I recently finished recording the audio version of "Christmas Dance," which I all my non-romance love story (because it doesn't follow the industry formula for a romance, but it is a love story). I hope to have it available before Christmas.
I continue to work hard on Sanctuary's Promise, the sequel to Surrender to Sanctuary. The story is beginning to flesh out, with lots of new challenges for David and Anna, the crew at the FBI, and at Sanctuary, Virginia. Look for the story in the spring of 2014.
I'm fortunate to count many writers as my friends, and you can catch me blogging with the Tea & Strumpet crew. Look for me talking about crazy stuff that happens in newsrooms the fourth Monday of every month. On the 22nd of each month, I blog with the Roses of Prose.