| Surrender to Sanctuary | Lights of Imani | Adrienne's Ghost | Christmas Dance |
| --- | --- | --- | --- |
| | | | |
I write stories of crime and passion, mystery and suspense, and most of all love.
Please check back from time to time to learn what's new in my world!
Big news!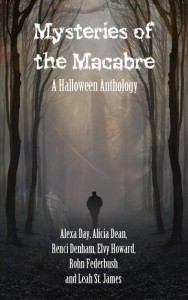 MYSTERIES OF THE MACABRE, a Halloween Anthology, is now available for pre-order at Amazon.com. The e-book is $3.99. print book info to come.
Six short stories — some sweet romance, some steamy romance, some suspense. Throw in teen angst, adults behaving badly, and ghostly appearances. What could be more fun?
Celebrate Halloween this year with MYSTERIES OF THE MACABRE, six brand-new stories by authors who know how to get the pulses racing, one way or another.
My story is called "Blood Moon":
Suspense/Paranormal
One Halloween night, a killer terrorized a strip of Virginia beachfront, murdering a dozen young women whose only crime was walking the beach with a lover. Now, fifty years later, book reviewer Ronnie can't shake the feeling that another has come to take his place. Is her vivid imagination running wild, or are the spirits stirring, warning of approaching danger?
I had been posting snippets on Twitter (#1LineWed). Here are a few:
Screams bubbled from her crimson lips, so loud and shrill they must have come from some deep dark place in her soul.

Two people stood in the shadows. They merged, kissed, then drew apart. Soft laughter drifted on the breeze.
Then I got creative with a photo:
More writing stuff
Next up for me…finishing up "Sanctuary's Promise," the sequel to "Surrender to Sanctuary." Some day it will be done. Seriously. I promise.
In the meantime…I'm fortunate to count many writers as my friends, and you can catch me blogging on the 22nd of each month with the Roses of Prose.