These sweet love stories feature romance, some mystery and even elements of faith, but few or no scenes of an intimate nature.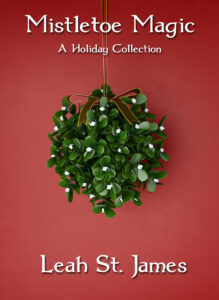 Mistletoe Magic
Five short holiday romances to help celebrate the season and the joy of Jesus' birth. It's available in ebook for $1.99 from Amazon, Smashwords and other retail outlets.
Christmas Delivery
A chance encounter on a stormy Christmas Eve challenges a woman's beliefs and heals life-long wounds.
Santa Suit Hijinks
Will the discovery of a childhood love's criminal activity break a narcotics investigator's heart for good or lead to renewed love?
Found in Translation
A math professor's rudimentary language skills lead to confusion and the chance for new love during a Christmas vacation in Paris.
Second Chance Christmas
Two broken-hearted people share an unforgettable Christmas cruise and learn to love again.
A Critterful Christmas
A wounded cat and injured dog bring a lonely veterinarian and small-town police officer together during a stormy Christmas Eve.