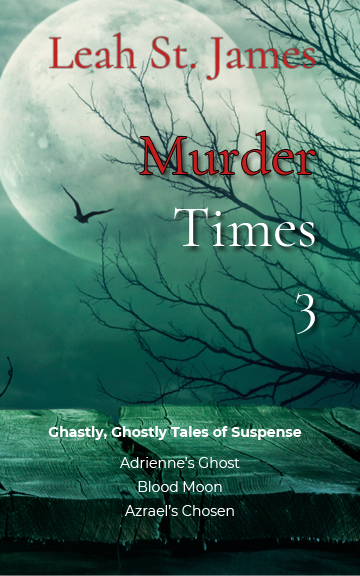 Murder Times 3 is a collection of a novella and two short stories that deal with murder, suspense and (for two of the titles) ghosts.
In Adrienne's Ghost, a paranormal romantic suspense novella (also available as a stand-alone Kindle e-book), FBI Agent Jackson Yates and parapsychologist Rachael Sullivan join forces to investigate the murder of former FBI recruit Adrienne Garza. While Adrienne, whose body is discovered in the basement of FBI Headquarters in Washington, D.C., helps point the way to her murderer, sparks fly between Jackson and Rachael, and a romance is born.
In Blood Moon, a paranormal suspense short story, a true crime book reviewer is fascinated by a series of murders that took place years earlier on a stretch of beach where she and her husband live in Southeastern Virginia.
Her fascination turns to unease, then terror, as she finds herself embroiled in what could be the killer's return to the scene of the crimes.
Azrael's Chosen, a Friday the 13th Short Story police procedural (also available as a stand-alone Kindle e-book), follows New Jersey State Police Detective Shannon Morgan's investigation of a grisly murder in the depths of the New Jersey Pine Barrens. As Morgan tracks the killer, she finds herself the next to be chosen.
---