Journey to Contentment Day 8
The message for January 8 is that "authentic" happiness goes far beyond the new pair of shoes we've been eyeing, or the kitchen remodel we've been hoping for. This kind of happiness is found only deep within each person's soul, and it has to be sought, purposely.
In encouraging us to strive for that level of contentment, Breathnach quotes both Robert Louis Stevenson, who wrote that it's a personal duty to seek happiness so that we can "sow anonymous benefits upon the world," and Daphne du Maurier. In "Rebecca" du Maurier wrote that "Happiness is not a possession to be prized," but is a state of mind—in effect, that happiness is a mind game.
Breathnach calls it a living emotion, a habit that must be learned and cultivated.
I get it. Like anything else you strive for, it takes focus, dedication and commitment.
For most of us who are accustomed, whether by environment or personality, to seeing the negatives first, it's a tall order. But for those dealing with a tragic loss, the discovery of a life-threatening illness or the daily drag of depression, even the act of picking up those rose-colored glasses could be an impossible chore.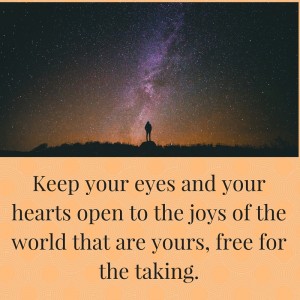 (Image courtesy of Greg Rokozy via Snapwire, CC0 1.0 Universal (CC0 1.0). No endorsement of the use of the image is implied.)
To me this is where faith must step in. As a Christian, I learned that Christ paid the ultimate price to give us eternal life, free of pain and debt. That faith in the assurances of the Gospels is how  I've been able to navigate the choppier seas of my life. I'm not saying it's been easy or free of thought or prayer to get to a point of peace when disaster has struck. But always in the back of my mind I hear that chorus of This too shall pass.
Still I'm a chronic worrier by nature. I tend to obsess about the smallest thing that goes wrong—not a good trait. Breathnach's call to proactively seek the joy promised with each day's waking is one I should heed.
I'll end with one of my favorite verses from the Bible, one that gives me comfort and helps me to seek joy.
Jeremiah 29:11
"For I know the plans I have for you, Says the Lord.  They are plans for good and not for disaster, to give you a future and a hope."
Wishing you many moments of joy today.
_____________
In late 2015 I started reading "Simple Abundance" a daily devotional by Sarah Ban Breathnach. It's more than a devotional; it's a guide to recognizing, and seeking, the joy in each moment. I haven't quite reached that state, but I'm hopeful. I've decided to share my daily thoughts on this blog. I'd love to hear yours as well.