Alexandra Anderson is an only child, raised by a single mother who died too young, then shuttled off to live with a father who had preferred starting a second family over sticking with his first.
Alexandra clearly has some abandonment issues, and marrying Ben – handsome, smart and filthy rich Ben who somehow saw something to love in the girl from the other side of the tracks – was her hope for a break in the chain of loneliness.
At first everything is great. Ben provides for her every need—a beautiful home in the suburbs and money to fulfill her slightest whim.  But money can't buy what Alex wants more than anything. A baby. A family of her own.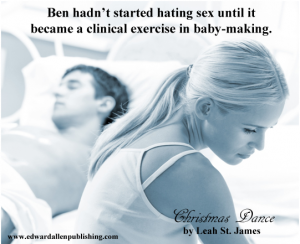 They've been "trying" to get pregnant for months, but so far haven't been blessed, and things are tense in the Anderson household. Ben, tired of "trying," is spending more and more time away on business, and Alex fills more and more hours with meaningless shopping, eating, and wondering how she'd become so miserable in her marriage so quickly.
Soon the wealth becomes a symbol of an absent husband who cares more for making money than making love.
Then she meets Sam Herrmann, father of three adorable boys, at her church. He's handsome, he's a great dad (not to mention obviously potent and willing in the procreation department). She starts to imagine how green the grass is on Sam's side of town. When they share a dance at a church Christmas party—an innocent dance, in full public view—it's enough to fan the flames of her imagination into action.
Christmas Dance, a story of love, marriage, parenting…and hope. (Click here for an excerpt and more information.)