A couple Sundays ago I had the privilege of participating in the Fall for the Book event in Fairfax, Virginia. I was wearing two hats for the day:  the first as organizer for the two romance panels (historical and suspense), and second as a first-time panelist on the suspense panel (Ticking Clocks: How to create pressure-cooker moments in fiction).
As far as events go, I've been organizing these types of things in my day job for so long, I know success often lies in the details. I worry about the tiniest of them, too (e.g., make sure the panelists know where to park, what they need to bring, what food/beverages are available) from the minute the event is scheduled until everyone has gone on their (hopefully) happy ways. I make copies of everything related to the day to bring with me –not just what I'm responsible for, but what everyone is responsible for (moderators, panelists, venue hosts, etc.) because you never know who's going to forget something.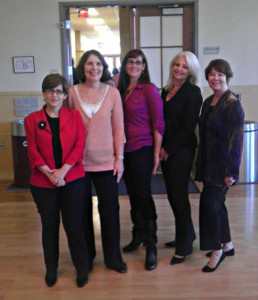 So the event organizing is pretty much old hat for me, and as long as I'm methodical and purposeful, make lots of lists and check them thrice, or more, I know I've done everything possible to make for a successful event. (What happens after that is often out of my control and I can only respond to needs at that point.)
The whole panelist thing, though, that was a new experience for me, and the list of things I hadn't previously experienced was pretty long. It's one thing to watch others make something look effortless, and something else altogether to do it yourself. And I was with a group of pros, that's for sure.
As I watched and listened to my fellow authors on both panels, I marveled at how they were able to get information out there — whether for a fellow writer or fan — in a fun and entertaining way that at times made me feel like I'd stumbled onto a private tea. It felt intimate, and inviting. Readers hung out afterwards, anxious for the opportunity to talk one-on-one with some of their favorite novelists.
So to help cement this in my head for the next time (if there ever is a next time), I'd like to share a few points:
Dress like a pro.
Think what your audience would expect, and deliver, whether the look is business smart or glamour/chic.
If you write gritty, suspenseful stories, don't show up in a pretty peach sweater with glittery gold threads.
(Hey…I thought it was pretty! Elegant, sort of. It didn't occur to me that neither "elegant" nor "pretty" was the appropriate look for the stories I had to tell. I should have worn maybe a tailored blazer in blood red…something like that.)
Know your topic.
Of course I knew my topic, on an intellectual, big-picture level. I had pitched it to the festival staff, after all, and helped to recruit panelists! But what I hadn't done was take time to really consider what I wanted to say, the points I wanted to make. So when the questions came (first one to me, right off the bat), I kind of froze and babbled something about … something. It's a blur. I had to interrupt later to redeem myself…somewhat.
So don't be that person! Do be the babbling blur-maker. One of the panelists jotted down notes during the discussion, and others were such pros, they had it in their heads. Both methods are valid. Just pick one and use it.
Listen, and prepare to offer counter-points
Part of the fun of panels is how authors play off each other. Even if you're all sharing a similar experience, your perspective is unique. It's okay to disagree and to have a friendly exchange of ideas. That's the kind of thing the audience is there for. (I do think I did that okay.)
Don't be a microphone hog.
I can honestly say no one at this event hogged the mic. But I've been at panel events before where panelists just didn't know when to stop talking, and the moderator didn't know how to make them stop. (Moderating is a whole other skill, and a topic for a whole other day.) It could be that that person is fun and lively with lots of great stories, but presumably the other panelists are too! Share the mic, please.
Take your share of time
Conversely, don't be afraid to speak up. If  your fellow panelists are talkers (even if they're not hogs), learn how to hold your own in a crowd. You're there for a reason. Show that you know your stuff as well as the others.
So now that I've seen my list, I realize this, too,  all comes down to one thing:  preparation. Similar to organizing an event, participating in one means you have to prepare yourself: how you're going to present yourself visually, what you're going to say to make the points that are important to you, and how you're going to interact with your fellow panelists.
If you've never been to a book festival, check them out in your area. They're great ways to meet favorite authors and are usually free and open to the public.
And if you're a writer, watch the pros, and learn. I know I did.