Sarah Ban Breathnach invites readers to join the optimists' club in her Jan. 11 reading. She says we all face down-turns in life — whether financial or with health or relationships — and the key to surviving is optimism. She says it's a learned habit, and her homework for the day is to "Smile at everyone you meet. … Realize the past no longer holds you captive. … A simply abundant world awaits."
It's not bad advice. In one of her exercise videos, Jessica Smith reports reading research that when you smile, your mood is actually lifted. So the simple act of smiling affects your mood in a good way.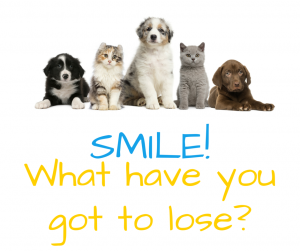 You know it's true. You know when you're in a bad mood and someone cracks a corny joke, or makes a funny face, and you feel the corners of your lips turn up–although you're trying to cement them in a grim, straight line–pretty soon you're feeling better.
So give it a try. What have you got to lose?
Happy Monday!
________
In late 2015 I started reading "Simple Abundance" a daily devotional by Sarah Ban Breathnach. It's more than a devotional; it's a guide to recognizing, and seeking, the joy in each moment. I haven't quite reached that state, but I'm hopeful. I've decided to share my daily thoughts on this blog. I'd love to hear yours as well.