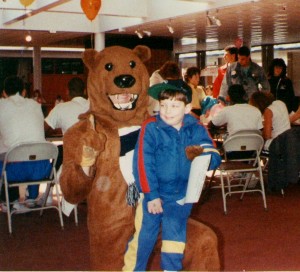 My older son turned 30 today. I looked in the mirror this morning and saw skin crisscrossed with lines that weren't there yesterday, sections of my face and neck dragging and drooping that, I swear, just yesterday were smooth and, if not firm, at least firmER.
I feel ancient, as if his turning this magical age (the age beyond which my generation couldn't trust another) propelled me into the phase of old croney-hood.
The truth is, physically I'm probably in better shape than I was for most of my adult life. Thanks to Leslie Sansone's "Walk at Home" tapes :-), I'm stronger than I've ever been. I have more stamina and endurance than I ever have. I feel fine.
Just no longer young.
I told myself it will pass. I told myself that at some point I'll look at these "new" lines and sags and wrinkles as badges of honor, if not courage, that I'll recognize them as nature's way of telling those around me I've lived life well.
Then it struck me – the "why" of my melancholy. It's not that I feel old. It's that I feel blue that I can't celebrate with him.
My son is spending his 30th birthday with friends, hundreds of miles away. I can't give him a hug. I can't marvel and feel, just for myself, how big and brawny he's grown, how strong and mature. I can't look into the eyes that are so like his father's mother's and wonder about the body's magical mixing of DNA that creates such uniqueness out of parts so recognizable.
But then I realized that he's doing exactly what I wanted for him. He's fulfilling the dreams I made for him that day 30 years ago. He's living the life he wants, enjoying friendships and exploring the world. And I'm thrilled.
Happy birthday, honey. You owe me a hug.