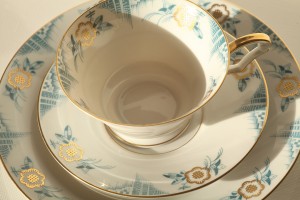 The January 4 reading for "Simple Abundance" is all about not saving the best for special occasions. Use your good china for your nightly dinners. Put on your special jewelry for a normal day at the office. Have your morning coffee in a beautiful cup and saucer. Dress up at home, just to feel good.
So what do I think?
I appreciate the message. I think there's value in it. But as a practice, for me? Not so much.
When I was younger, those things meant more to me–having a "Home Beautiful" kind of house, the pretty trappings, the nice clothes. After losing much of it years ago (due to a period of unemployment), the shine came off for me.
Today, I'd rather pare down in my public world than fancy up in my private world. I'd rather wear sweats to the day job than to wear heels at home. It doesn't matter to me what plate my food comes on–it matters that I have food.
So to me, this message is about the freedom to pamper yourself, whether that's in the form of  eating from "fancy" dinnerware or putting diamond studs in your ears for a trip to the grocery store. If it makes you happy, do it.
In late 2015 I started reading "Simple Abundance" a daily devotional by Sarah Ban Breathnach. It's more than a devotional; it's a guide to recognizing the joy in each moment. I haven't quite reached that state, but I'm hopeful. I've decided to share my daily thoughts on this blog. I love to hear yours as well.